There is no doubt about the fact that well-to-do economies have contributed greatly towards the development of our planet, both economically and technologically. But do you know that underdeveloped nations too have contributed substantially by not doing anything? Sounds strange? Well, rich nations are playing a great role towards depleting the natural resources of our planet, so much so that now there is the danger of our planet falling under permanent "ecological debt".
There is a term called "biocapacity" which is the capacity of the ecosystem to generate resources and absorb its wastes. When we reach a point in a year when consumption around the Earth exceeds its biocapacity, that day is marked as the 'ecological debt day'. According to NEF (New Economics Foundation), for the rest of the year after this day we eat into our natural resources that are not going to be replaced.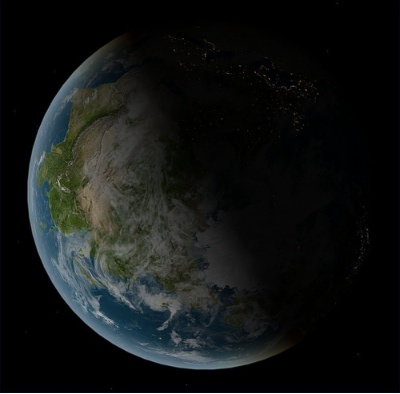 The positive side of the economic recession was that it delayed the ecological debt day by 24 hours. Last year, September 24 was the ecological debt day. Now that the economy is slowly taking a better shape, the risk of deepening the ecological debt only increases. Andrew Simms, NEF's director, opines that over-consumption is driving our planet to the edge of collapse. He adds, "If we bankrupt critical ecosystems, no amount of government spending will bring them back."
The research by NEF also warns about the alarming increase in the energy consumption of the world, especially by the rich countries. It is surprising to know that only 7% of the global population produces 50% of greenhouse gases! This is basically due to the technological advancement of these countries. Speaking in favor of the new technological energy advancements, NEF says that these will help to improve the quality of life in developing countries. However, it warns that this will also stop after consumption crosses its threshold. According to Simms, the need of the hour is to shift away from a "quantitative focus on income and consumption" towards "more qualitative improvements in the human environment to do with culture, civic, community and family life, long-term learning and those other dimensions that contribute to relatively long and happy lives."
Many countries have slipped in to 'over saturation' mode and are thus greatly causing wasteful over-consumption. People in the rich nations have somewhat assumed that resources are limitless and cheap, and this has lead the consumption to deplete the natural resources of our planet at a fairly fast rate. It is high time that nations halt paving the pathway to doom. There is a great need to curb the unrestrained pursuit of economic growth. Politicians should look beyond GDP and include measures which also address the need to better the quality of life. A radical new approach bringing about equal redistribution of resources between all the consumers of the world would ensure a balanced life. This would bring about the overall good health of an economy and in turn, a sustaining planet.
Source: The Good Human
Also read: Why we must learn from the biosphere to build green economies.  A real shift in mindset is required; we need to think ecologically then make sure our economic policies are environmentally friendly.  Individuals have a great role to play…"The work of the individual still remains the spark which moves mankind ahead." Igor Sikorsky.
Two very important ways to reduce your ecological footprint are conserving water and saving energy.  A combination of water-saving habits and water systems such as rainwater harvesting systems as well as solar energy not only saves the environment but they save money too.

Water Rhapsody Water Conservation Systems and Yes Solar Mpumalanga offer eco-friendly rainwater collection systems, rainwater tanks, grey water recycling, swimming pool backwash recycling, water-saving toilet flush mechanisms and high quality Solsquare solar water geysers.
Contact us for a FREE QUOTE on a solar water heater, rainwater harvesting system (see rainwater FAQ), gray water recycling system or water tank (we are authorized South African JoJo Water Tanks dealers and supply the full range of JoJo water tanks and JoJo tank stands).  Our water tank prices are hard to beat in the Mpumalanga & Limpopo Lowveld.
Water conservation and renewable energy such as solar energy are two issues that affect the global community; make a difference and start conserving water and switch to renewable energy today.  Another way of reducing your carbon footprint is to switch to green insurance, now available in South Africa.