Long time readers may remember when I wrote about two different ways you could heat your home or garage without using electricity. There was the heater made from soda cans and an old window and these solar heaters that were installed on the sunny side of my house, both of which worked really well providing heat without using electricity. But with winter (slowly) coming to an end, what can be done about cooling your home down without electricity come the hot summer months? One designer has come up with a solution which uses just a little cold water and no electricity at all, unlike conventional very-expensive-to-run air conditioners which most people use. From Yanko Design:
The design we're speaking of here is ECOoler, a sort of tile system that connects via water hose nozzles, creating a grid of essentially natural coolers that work by evaporating water. The aesthetics are brought to the project by one of the two traditional Middle-Eastern reference points used in this project: the Mashrabiya, an architectural element that acts as mediator between the inside and the outside. This takes the form of a clay or cement brick that allows air to travel in whilst continuing to keep all manner of uninvited guests out. In the ECOoler, the Mashrabiya is molded and made into a tube system that takes another important cue from a Middle-Eastern tradition: the Jara.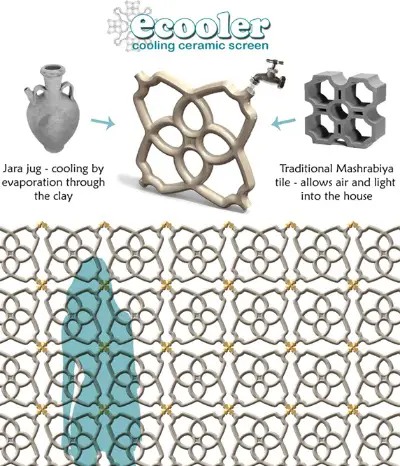 By using just some cold water and natural evaporation you could cool the interior of your home using no electricity at all. Talk about saving on those expensive utility bills all summer long! Granted, these probably couldn't be used on giant McMansions that so many deem necessary to live in, but for those of us with reasonably-sized homes, RVs, trailers, cabins, or even earthships, something like this ECOoler could be incredibly useful. Let's hope the designers get this on the market and for sale so we can test it out. In the meantime, here are some useful tips for lowering your cooling costs at home this summer:
If you have central air conditioning, pay the $50-$75 to have the HVAC guy come out and service your unit. After a thorough cleaning and going through, your AC will run a lot more efficiently all summer.
Be sure that you have a programmable thermostat for your central AC, so you can schedule it to be on when you need it and off when you don't. These are relatively inexpensive, available everywhere, and very easy to install.
If you do not have central AC and are going with window units, be sure to only buy ones that are Energy Star certified. Also, you can put them on heavy-duty timers so that they can remain off during the day and can be turned on a little bit before you come home from work.
Lower your shades and blinds during the day to block out the sun. Keeping the sun from heating up the inside of your home can make a big difference in how much energy you need to cool it down once you get home.
When in doubt, leave your ceiling fans running 24/7. I had them in my old place in California and they definitely helped to move the air around and cool me off, all at minimum cost. I was able to leave the AC off for longer with all the fans running in the various rooms, and they barely cost more than an incandescent light bulb to run.
If you have not done so already, be sure to put all electronics that don't need to be on 24/7 on power strips that can be turned off at night or while you are at work. Computers, radios, televisions, DVD players, etc all suck energy even when they are off due to "phantom power", which is drawn at all times so they turn on quickly when you need them. Turning off power strips when you don't need these things can save you a few bucks a month.
Pick up a few standalone fans and place them strategically around your house. In the summer I have one in the corner by a living room window, so if it is really hot inside I can make it force air outside, cooling off the place for minimum cost.
Source: The Good Human
In South Africa, especially in the north-eastern Lowveld, we often need cooling even during the winter months.  The cost of electricity is set to rise drastically, not only in South Africa but world-wide.  Green technology that does not rely on main grid electricity supply is highly desirable- not only does it save money but it has a positive effect on the environment.  Solar water heating is another green technology that is rapidly gaining favour and most likely will eventually replace conventional geysers.
Water Rhapsody Water Conservation Systems and Yes Solar Mpumalanga offer eco-friendly rainwater collection systems, rainwater tanks, grey water recycling, swimming pool backwash recycling, water-saving toilet flush mechanisms and high quality Solsquare solar water geysers.
Contact us for a FREE QUOTE on a solar water geyser, rainwater harvesting system (see rainwater FAQ), gray water recycling system or water tank (we are authorized South African JoJo Water Tanks dealers and supply the full range of JoJo water tanks and JoJo tank stands).  Our water tank prices are hard to beat in the Mpumalanga & Limpopo Lowveld.
Water conservation and renewable energy such as solar energy are two issues that affect the global community; make a difference and start conserving water and switch to renewable energy today.