While some people may already be buying the new "tubeless" toilet paper, most of us continue to buy the kind with the cardboard tubes in the middle.
(And really, that tubeless kind called Scotts Naturals is only 40% recycled paper, so please don't buy it. Buy 100% recycled content toilet paper instead.) But at the end of each roll, what do we do with the tube? We throw it in the recycling bin, of course! However, there may be a few uses around the house for these cardboard gems that can keep them out of the recycling stream for a while, and here are a few to get you started.
Create pencil or pen holders by taping one end shut
Make a knife sheath for camping
Put them in your compost bin
Store string by cutting a notch into each end of the tube
Tape 2 tubes together side by side, making pretend binoculars for the kids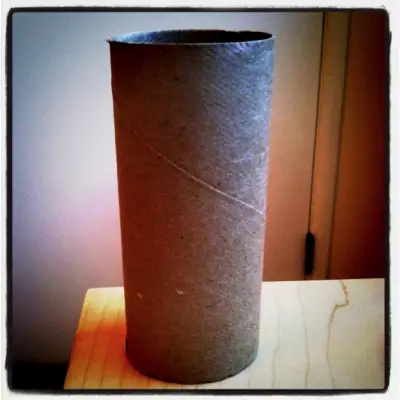 Use as kindling to start a fire in your fireplace
Store pantyhose in your drawer to keep them from getting snagged
Store Christmas lights until next year
Collect a bunch of them and let your kids try to build things with them
Cut tubes into shorter lengths and use for seedlings
Use several inside your boots or shoes to help them keep their shape
Source: The Good Human
Another use for toilet paper tubes, especially relevant at this time of the year, is for crackers- put sweets or whatever inside the tube and then make the rest of the cracker using gift wrap paper (re-use old wrapping paper for this).  In our throw-away society, it's easy to overlook great uses for things that would usually be discarded without a second thought.  Not only do small things like this help the environment but they save money too!  Remember, from an environmental and energy-use point of view, it is often better to re-use rather than recycle (see Recycling vs. Reusing: Is there a difference?)
Water Rhapsody Water Conservation Systems and Yes Solar Mpumalanga have combined (water and energy are linked!) to offer high quality water conservation systems and solar energy solutions.
Contact us for a free quote on a rainwater tank,  rainwater harvesting system, grey water recycling system, Atlas Plastics & JoJo water tanks (we are authorised JoJo Tanks dealers in Mpumalanga and Limpopo), green plumbing systems or solar water geyser (made by Solsquare in Germany).
All our water systems are installed by qualified Water Rhapsody consultants and our Solsquare solar geysers are fitted by Eskom-approved solar installers (so that you can claim cash back from the Eskom renewable energy rebate scheme).