Whether you live in the USA or South Africa or anywhere else in the world where it makes sense to harvest rainwater, this article outlines simple and inexpensive ways to collect rainwater. Rainwater harvesting need not be complex nor expensive but most systems require at least a rain barrel or water tank to store your rainwater.
So you've decided you want to go green, save water, and save money, but after creating a budget, you realize there isn't much left for your project. It's OK. Rainwater harvesting doesn't have to be expensive.
Follow this guide to harvesting water on a budget.
Roof Direct
It is easy and cheap to channel rainwater directly from your roof. This method is OK if and only if:
1. You're not intending to use the water for consumption by humans or animals.
2. Your roof's shingles don't contain any toxic materials such as asbestos.
Simply remove the bottom part of your gutter system's extenders and place your water-retention barrel (or any trash can or container lined with food-grade plastic, if you don't have a proper vessel) underneath. Be sure to drill an overflow hole at the top of your rain barrel and a spigot hole where your garden hose will go at the bottom.
A standard, 40'x40′ roof is capable of collecting 1,000 gallons of water for every inch of rain that falls. A good, full-roof, gutter-and-downspout-directed collection system can literally take care of all of your landscaping water needs with almost no budget.
Roof Indirect
If you don't have a gutter system, get ready to do some serious yard work. Immediately under the overhang of your roof, dig a channel called a swale running parallel to your house, preferably toward your garden. If that doesn't match your layout, run it toward your collection area.
Following a design similar to this one, remember that you are using gravity! Dig slightly deeper in the direction you want the water to flow. Line the swale with anything that will repel water, such as small rocks.
Tarps and Scaffolding
Dig four holes in the shape of a rectangle that will be deep enough and of the correct dimensions to be able to anchor four tall posts. Erect wooden posts or metal poles in the dugouts. The two posts on either side must be shorter than the two on the opposite, long side of the rectangle. Attach a tarp lengthwise with the four corners fastened to the posts. Put a collection vessel or water tank centered under the edge of the shorter side.
Attach a weight in the center of the tarp, immediately above the rain barrel or water tank, to create an obtuse "v" shape through which the water will flow into the barrel.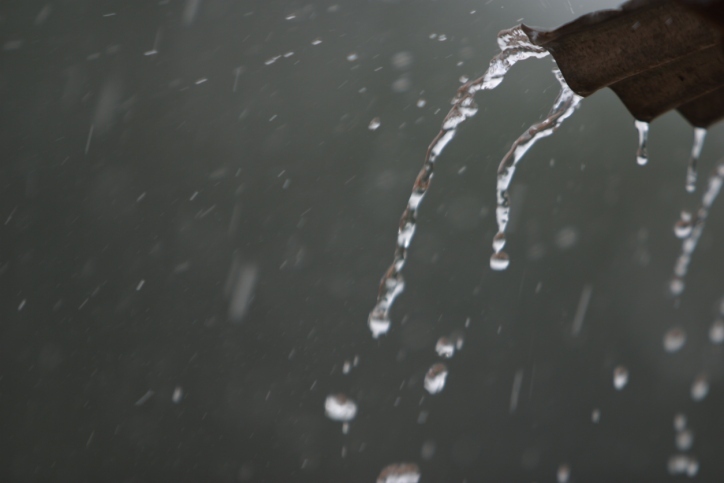 Harvesting water is the ultimate green action.
Harvesting rainwater is the epitome of going green. All water, by definition, is rainwater. Every gallon you gather is a gallon you're not using out of the water supply. While systems – even ones that will eventually pay for themselves – can be big, elaborate, and expensive, the most basic, rudimentary, gravity-driven systems can be extraordinarily effective, although they will require some work.
Every structure, yard, and garden is different. Get creative and think outside the box.
Source: Andrew Lisa (Andrew Lisa is a freelance writer living in Los Angeles. He writes about the green movement and the environment).
JoJo Tanks South Africa offer a wide range of products such as plastic water tanks and chemical tanks to suit every household, business or agricultural need, including silo tanks and silo tank stands as well as other high quality JoJo Tanks products.  See JoJo Tanks' VERTICAL TANKS, HORIZONTAL TANKS (transporter tanks), STEEL TANK STANDS and OTHER JOJO PRODUCTS and see JoJo Tanks' NEW 6000 LITRE UNDERGROUND TANKS. Also see our FAQ and WATER TANK PRICES.
JoJo's superior polyethylene plastic water tanks and steel water tank stands make JoJo Tanks the leaders in plastic water tank technology and the quality, affordability and 5-year guarantee on these water tanks make JoJo products one of the best choices in South Africa.  *All JoJo Tanks polyethylene tanks and products now carry a 8 year warranty (on tanks purchased on or after 1 July 2013)*  JoJo's water tanks and chemical tanks come standard with a number of features that are often lacking on cheaper/inferior plastic tanks made by other companies in South Africa.

We are authorised JoJo Tanks dealers in South Africa and dispatch orders directly from JoJo Tank depots to save on transport costs. Full range of JoJo Tanks products and JoJo water tanks for sale.  CONTACT US for a quote on the right JoJo water tank or other JoJo product for you.  Special discounts are available on multiple orders of chemical tanks and water tanks and to our commercial and government customers. We can usually delivery tanks and tank stands free of charge to business/commercial addresses in South Africa.

SPECIAL ON MULTIPLE ORDERS OF 10000 litre, 15000 litre & 20000 litre JOJO WATER TANKS AND CHEMICAL TANKS…CONTACT US FOR A FREE QUOTE!
(15000 litre and 20000 litre JoJo vertical water tanks & chemical tanks are available on order directly from JoJo Tanks' main factory)
Live in the USA and need rainwater harvesting equipment?  Click HERE!