The Zoetrope is a vertical-axis wind turbine (VAWT) made from materials commonly found at your local hardware store and a few easily purchased online, and Applied Sciences has made the decision to "open source" the turbine for everyone who wants to try their hand at making one. With videos and a downloadable PDF construction guide, it looks like anyone with a menial amount of handyperson abilities could make one for themselves.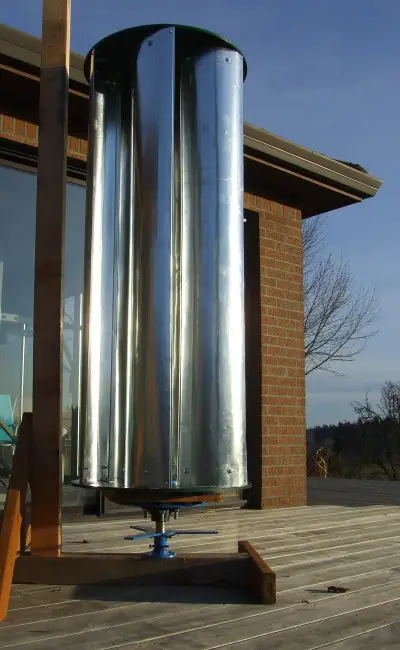 These type of vertical-axis wind turbines are quiet, really strong, and don't require too much wind in order to operate efficiently. I am thinking I may just give building one of these a shot myself!
Source: The Good Human
Having looked at the PDF Construction Guide, this diy wind turbine does seem to be relatively simple, but some mechanical know-how would be an advantage.  The materials also shouldn't be too difficult to find in South Africa and the total cost of building one of these would be a fraction of the cost of commercial wind turbines.  Wind energy and solar energy are renewable energy sources that have zero carbon emissions and should be utilized whenever possible.  Solar energy technology is becoming more efficient an cheaper all the time.  The option of 'off-grid' living is also easier than ever before; water self-sufficiency is now also attainable with the help of water storage tanks, rainwater harvesting systems and grey water reuse.
Water Rhapsody Water Conservation Systems and Yes Solar Mpumalanga offer eco-friendly rainwater collection systems, rainwater tanks, grey water recycling, swimming pool backwash recycling, water-saving toilet flush mechanisms and high quality Solsquare solar water geysers.
Contact us for a FREE QUOTE on a solar water heater, rainwater harvesting system (see rainwater FAQ), gray water recycling system or water tank (we are authorized South African JoJo Water Tanks dealers and supply the full range of JoJo water tanks and JoJo tank stands).  Our water tank prices are hard to beat in the Mpumalanga & Limpopo Lowveld.
Water conservation and renewable energy such as solar energy are two issues that affect the global community; make a difference and start conserving water and switch to renewable energy today.
See also… Wind vs Solar Energy in South Africa