The city of Chofu in Tokyo started a new program in November 2010 for recycling components such as electric circuit boards and hard disks from home appliances, collected as bulky waste. This is the first program of its kind in any of the municipalities in Tokyo.
The city collects over 11,000 pieces of used home appliances every year. In the new program, recyclable components are removed from the products and then sent to metal refining companies, which extract and recycle metals such as gold, silver, copper, and rare metals including palladium.
The program targets large used home appliances more than 40 centimeters in size, including DVD players, video cassette recorders, printers, word processors, microwaves, electric fans, and vacuum cleaners. Products covered under the Home Appliance Recycling Act are excluded from the target list of items. Components such as motors, transformers, electric circuit boards, hard disks, DVD laser pick-up devices, and power cables are removed, and then any metals recovered are extracted for recycling.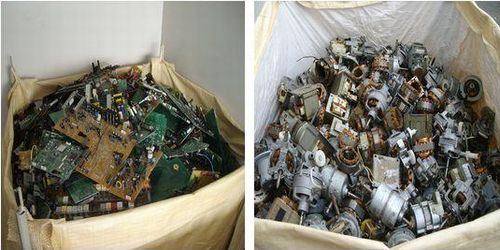 Chofu is located almost in the center of Tokyo, and with a population of 220,000, it is the 22nd largest city among the 62 municipalities (wards, cities, towns, and villages) in Tokyo. It was ranked as having the third highest recycling rate (at 45.6 percent) among the municipalities with populations over 100,000 and under 500,000, according to a nationwide survey on the state of discharge and treatment of municipal solid waste conducted by Japan's Ministry of the Environment in fiscal 2008.
Source: Japan for Sustainability
See why it is so important to reclaim/recycle rare earth metals and minerals. Home reuse and recycling of everyday items should become second nature for household members.  The reduce, reuse, recycle mantra is in that specific order for a reason: firstly reduce your consumption of goods and don't throw things away that could be repaired. Secondly, if something has done its duty for one application, see if you can use it for something else.  Recycling is the last option; recycling can use large amounts of energy making the recycling of certain materials questionable, from an environmental point of view.  See Recycling vs Reusing: is there a difference? for further explanation and also be aware that "100% recycled" claims can be marketing greenwash.

Water Rhapsody Water Conservation Systems and Yes Solar Mpumalanga offer eco-friendly rainwater collection systems, rainwater tanks, grey water recycling, swimming pool backwash recycling, water-saving toilet flush mechanisms and high quality Solsquare solar water geysers.
Contact us for a FREE QUOTE on a solar water heater, rainwater harvesting system (see rainwater FAQ), gray water recycling system or water tank (we are authorized South African JoJo Water Tanks dealers and supply the full range of JoJo water tanks and JoJo tank stands).  Our water tank prices are hard to beat in the Mpumalanga & Limpopo Lowveld.
Water conservation and renewable energy such as solar energy are two issues that affect the global community; make a difference and start conserving water and switch to renewable energy today.  Another way of reducing your carbon footprint is to switch to green insurance, now available in South Africa.